Murder victim could only be identified by DNA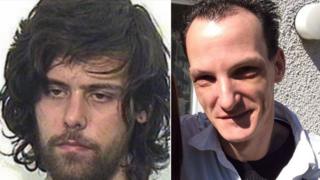 A Dundee murderer battered a Dutch artist so severely he could only be identified through his DNA, a court has been told.
John Styles stabbed Jeroen Van Neijhof 19 times and later told a former girlfriend he had "danced all over" the artist's head.
Heroin addict Styles, 21, killed Mr Van Neijhof after discovering his victim did not have the drug at his home.
He will serve at least 15 years in jail after admitting the murder.
A judge at the High Court in Edinburgh told Styles he had committed an "extremely brutal" attack.
Lady Carmichael said it was "a particularly tragic and appalling example" of the harm associated with illegal drugs.
'Brutal assault'
Styles admitted murdering Mr Van Neijhof at his victim's home in Brown Constable Street, Dundee, on 23 May.
Styles had been freed twice on bail at Dundee Sheriff Court in the weeks before the murder.
He was awaiting sentencing for charges of assault and robbery, and possessing heroin and a cosh, at the time of the killing.
The court was told that Mr Van Neijhof, who was 38 and a habitual drug user, produced wildlife paintings and other art and had moved to Scotland about five years ago.
About a month before the murder, Styles told a friend that while begging outside a shop, he was befriended by a Dutch man and they had later taken ketamine in his home.
Mr Van Neijhof spoke to Styles at his regular begging spot on the day of the murder, and the two men returned to the artist's home and took ketamine and ecstasy.
Advocate depute Jo McDonald told the court: "It is unclear why, but from what he later told others, the accused became angry with the deceased in a dispute over a lack of available heroin.
"The accused then subjected the deceased to a brutal assault."
'Bloodied body'
After the murder Styles walked to the home of a friend, who saw he had blood on both hands, which was running down his wrists and soaking his sleeves.
He told her: "You don't want to know what I've done to him, but he's in a bad way."
Two days later, a work colleague went to Mr Van Neijhof's home after he failed to turn up for his employment and looked through the letterbox and saw his bloodied body lying face down on the floor.
The victim's blood was found on Styles' clothing and his fingerprint was discovered at the murder scene.
The prosecutor told the court: "Such was the extent of the facial injuries of the deceased that he could not be visually identified.
"Identification was eventually confirmed through DNA obtained from the Dutch authorities."
Defence counsel Mark Stewart QC said: "There is no real explanation as to how this matter took the turn it did."