Army cadet who raped teenager at Bannockburn school detained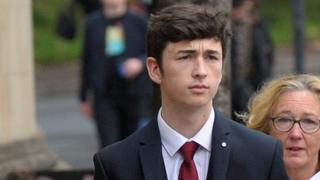 An army cadet who raped a teenage girl at a school near Stirling has been detained for three years.
Glenn Riddell, 18, attacked the then 17-year-old at Bannockburn High School, in November 2016.
The girl was out with a friend before ending up at the school with Riddell, where she was attacked.
Despite a lengthy plea by Riddell's lawyer, Judge Graeme Buchanan said custody was the only "appropriate" sentence.
The High Court in Glasgow heard a number of testimonials that had been written in support of the teenager - including from an army major, a school principal teacher and a firm of lawyers he had work experience with.
The teacher from a local high school described him as "charming" and "caring".
'Out of character'
The court was told the effect of the girl's ordeal had been "long lasting".
Drew McKenzie, defending, said it was "out of character" for Riddell and it was "one of these exceptional cases" where an alternative to being placed in a young offenders' institution was an option.
Mr McKenzie said the rape conviction had ended the youngster's hopes of a career in the military.
Riddell had been with the army cadets since the age of 12 and been promoted to corporal.
Sentencing, Judge Buchanan added that Riddell "took advantage" of his victim.
He told the teenager: "You have been convicted of a very serious offence which involved a nasty attack on your victim.
"It must be a matter of great shock to your family that you have ended up in this situation - convicted of rape at the high court."
Riddell, from Stirling, was placed on the sex offenders list indefinitely.