Man who raped teenager after early release from prison jailed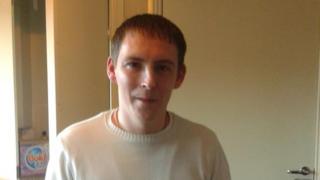 A man who raped a stranger in a Dundee car park less than three weeks after being released early from prison has been jailed for nine-and-a-half years.
Mark Arnott attacked the 18-year-old woman in West Henderson's Wynd last November after threatening to stab her.
The student's victim impact statement said: "An achievement is I have survived another day."
Arnott, 37, was sentenced at the High Court in Glasgow after he admitted raping the teenager.
The court heard previously that he fled after the woman's cries alerted people who had been attending a nearby dance class.
Arnott was on licence at the time, having earlier been jailed for robbery.
The court heard that his victim was walking beside the car park as he stood nearby smoking a cigarette.
CCTV then caught him running up behind the teenager and grabbing her.
The young woman was then dragged into the car park while trying to break free.
The court heard that the victim no longer goes out alone at night and is waiting to see a psychologist.
Lord Mulholland told Arnott he had shown no empathy and had "engaged in victim blaming."
The judge said: "She has suffered panic attacks, flashbacks, nightmares and suicidal thoughts.
"She is scared of the dark and has difficulty sleeping and finds it difficult to trust men."
Arnott was ordered to be on licence for four years after his release from prison and was placed on the sex offenders register.