'It's University Challenge, why are you talking about my hair?'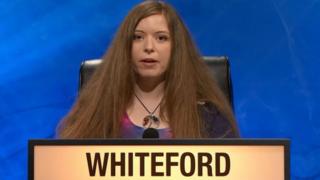 A student who appeared on University Challenge has hit back after her hair became a hot topic on social media.
Freya Whiteford was the only female among the four students representing the University of Glasgow when they took on and beat Emmanuel College, Cambridge.
But having appeared on the quiz, which aims to find the most intelligent students in the country, physics student Freya was stunned when it was not her brainpower being discussed on social media, but her hair.
However, the part-time library worker from Bonnybridge, near Falkirk, refused to be intimidated, meeting critical comments with witty answers.
Freya, who studies physics and astrophysics, was excited to see her team's episode aired on TV.
Even before the show started she tweeted that she could be identified as "the one that people will tell to get a haircut".
But she admits she was surprised by the reaction.
Speaking on the BBC's Stephen Jardine Programme, she said: "We were all watching the episode together, the whole team and all our friends in the university union pub.
"I thought I might live-tweet it because I heard the captain of the Emmanuel College team might do that so I thought I would join in.
"And then I refreshed my Twitter feed to see a huge line of Gifs of Cousin Itt from the Addams Family."
One person wrote: "Feel like if you pull on Whiteford's necklace, her hair will slide across and cover her face like curtains."
Freya made light of it, answering: "Thank you for the party trick inspiration."
Some of the comments she found funny and she responded by joking that she could hide 12 pencils in her hair.
But others she said were more offensive.
She said: "It started off very jokey. Someone said 'I want to put serum in your hair' and then a whole flood saying to keep it that way, and that's been reassuring.
"It is literally most of what people can see in me so I can certainly understand people wanting to talk about it, but the amount of attention it's been getting is bigger than I would have imagined.
"It's very strange. I got a message to tell me the the Daily Mail had written a Femail article about the length of my hair and the reactions to it. And then the Independent wrote an article about that article. It's all been very surreal."
Because the Glasgow team won their round - by 200 points to 175 - it means the nation will get to see Freya on TV again.
So is she tempted to go for a re-style?
No way. Freya said: "I think I will grow it longer.
"It feels like the time to do it."