Rebels at heart: The Beano at 80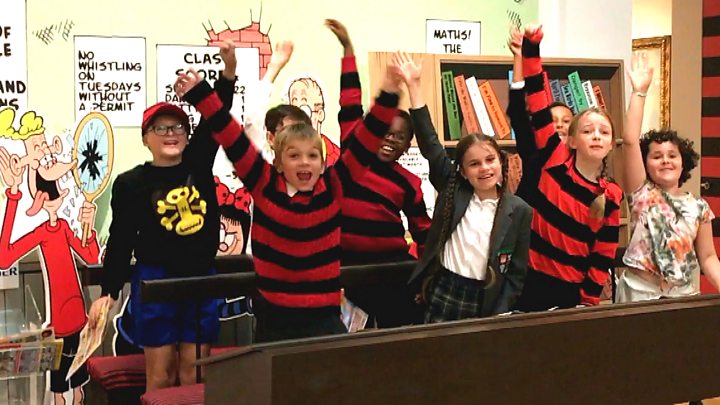 The Beano's "rebellious attitude" has kept it relevant for new generations of readers, the comic has said on its 80th birthday.
Its first edition on 30 July 1938 broke with the tradition of text-dense publications for children, in favour of pictures to tell the story.
Along with the print edition there is a CBBC series, an interactive website and a new live-action series.
David Walliams has guest-edited the 80th birthday commemorative issue.
Dundee's McManus museum has been renamed the McMenace for a new exhibition celebrating 80 years of the comic.
Head of Beano Studios, Mike Stirling, said the comic revolutionised the industry in 1938.
He said: "It was a really rebellious approach to the medium.
"The original team turned everything on its head and made the focus upon picture stories and humour.
"The key point was that the heroes were all kids."
The comic regularly consults its "Trendspotters" - a group of young people from different backgrounds across the UK - on their viewing and social media habits.
Mr Stirling said "We speak to kids every single day and they'll tell us what they love about Beano.
"But they'll also tell us right away something they don't like.
"Some of the content you see today might inform something one of the comic characters does in six weeks time, so it's really important for us that we get that feedback.
"All our best ideas always come from kids."
The comic has enjoyed a high profile in its 80th year, with the announcement of a new live-action series starring Minnie the Minx.
Earlier this year, the Beano issued a cease-and-desist letter to MP Jacob Rees-Mogg claiming he has modelled himself on its character Walter the Softy.
Mr Stirling said that the Beano team were aware that producing the comic was "a massive honour and a big responsibility".
He said that moving with the times had given the Beano "optimism and excitement for the future."
Mr Stirling said: "I think what Beano has to do, and to be fair we have been doing, is to take the magic of Beano and make sure it's available on whatever platform (children) are engaging with.
"By taking that attitude that started in 1938, this rebellious attitude, thinking from a kid's perspective, taking every situation and making the best of it, stands us in really good stead."