New £38m Dundee railway station opens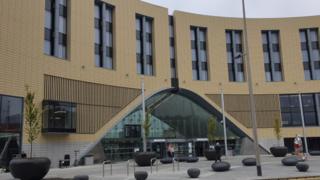 Dundee's new £38m railway station has opened to the public.
The five-storey building, which took two-and-a-half years to complete, includes a 120-room hotel and retail units.
It is situated beside the city's V&A Museum of Design, which opens on 15 September.
City development director Mike Galloway said the new building was one of the "major landmarks in the city's regeneration."
He said: "We've been working on this project for almost 20 years, so you can imagine how delighted we are today with its opening.
"We didn't want the V&A Museum to be open and people not be able to arrive in our new railway station.
"Similarly, with next week's Open at Carnoustie, we wanted this to be open so people get that really powerful, positive first impression of Dundee."
The station was opened by public health minister Joe FitzPatrick.
He said: "The revitalised Dundee Station creates a gateway to the city and is an excellent example of how the industry can work in partnership with the public and private sector to deliver to wider regeneration goals."