Spray paint vandals target historic Arbroath Abbey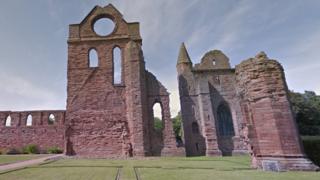 Police are appealing for information after Arbroath Abbey was vandalised with spray paint.
The suspects struck some time between 17:00 on Tuesday and 07:00 on Thursday.
Historic Scotland said it could take more than a week and cost a four-figure sum to remove the paint from the iconic landmark.
The abbey is currently undergoing some exterior work and the culprits used the scaffolding already in place to gain access.
A police spokesman said: "This is highly dangerous, and we would ask parents in the area to be fully aware of what your children are doing, where they are going, and who they are with.
"We would be particularly interested to hear from any parents whose children have come home in the evenings with paint on their clothes or smelling of solvent."
The Abbey was founded by William the Lion in 1178, in memory of martyr Thomas Becket, and was one of Scotland's grandest monasteries for almost 400 years.
It made headlines worldwide in 1951 after The Stone of Destiny, which had been stolen from Westminster Abbey the previous Christmas, was left in front of the altar, near the tomb of King William the Lion.