Man jailed for 16-year campaign of domestic abuse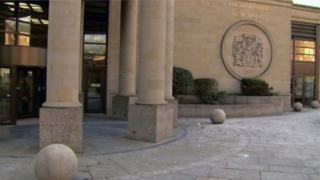 A tree surgeon who targeted four former partners during a 16-year campaign of domestic abuse has been jailed for 13 years and nine months.
Mark McLeod was previously convicted at a trial in Edinburgh of 14 charges including repeated rape and assault.
Judge Lord Summers told the 39-year-old he had a "very poor attitude to women".
McLeod, who has a history of violent offences, was jailed at the High Court in Glasgow and will be supervised for a further four years on his release.
He was also placed on the sex offenders register.
'Controlling individual'
The offences took place between 1997 and 2013 in Dundee and the Angus area.
McLeod was also convicted kicking and hitting dogs.
Lord Summers told him: "It is clear you have very little respect for the law."
He said McLeod's attitude to women meant that the court was "not inclined to adopt a benevolent or forgiving view".
Det Insp Muriel Fuller of Police Scotland's domestic abuse task force said McLeod was a "violent and controlling individual."
She said: "He is clearly dangerous and has, over a number of years, committed serious, violent offences which until now have gone unpunished.
"With this sentence McLeod must face the consequences of his actions."