McManus museum becomes McMenace for Beano exhibition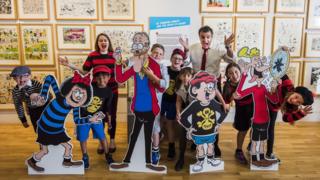 Dundee's McManus museum has been renamed the McMenace for a new exhibition celebrating 80 years of the Beano comic.
The show includes original artwork, a first edition of the Beano from July 1938, and fan club memorabilia, as well as a history of publishers DC Thomson.
The exhibition was visited by Dundee High School pupils, whose predecessors inspired the Beano's Bash Street Kids.
The free exhibition runs from Saturday until 21 October.
Mike Stirling, head of Beano Studios Scotland, said making children the stars of the comic had maintained its appeal.
He told BBC Scotland: "No one else was doing that at the time.
"By doing that, what it's allowed Beano to do is continually reflect the 10-year-old and the world around them today.
"By being that way, we've stayed forever young, but we've also stayed forever relevant, because what we do is reflect a slice of life - we just do it a little bit larger than life.
"That's a great place to be, because kids can walk vicariously in the shoes of our characters and they can get up to a lot of mischief by imagining themselves doing the sorts of things that we allow our characters to do."