£90m for Stirling and Clackmannanshire City Deal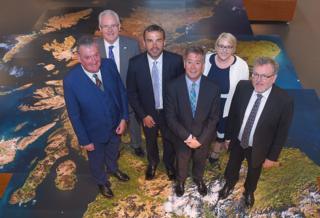 A total of £90.2m is being invested into Stirling and Clackmannanshire by the Scottish and UK governments.
The £45.1m from each government is part of the City Region Deals, which are designed to drive economic growth.
The investment will support a new International Environment Centre and a new Aquaculture Innovation Hub.
It will also help develop tourism and culture, and fund a £2m digital district and the creation of digital hubs in Callander and Alloa.
The Scottish government also announced an extra £5m of funding to deliver a new business park at Kildean and to support the next stage of development of proposed new infrastructure at Callander.
The deal will see land owned by the Ministry of Defence released to the council for housing and business, and there will be support for disadvantaged groups in Clackmannanshire to access work.
The two governments will work in partnership with Stirling and Clackmannanshire councils.
Scottish Secretary David Mundell said: "The ambitious and innovative deal will drive economic growth across the region, creating jobs and boosting prosperity for generations to come. It is now for Stirling and Clackmannanshire to get on with the hard work needed to turn these proposals into a reality.
"Today's announcement brings the UK government's investment in UK City Region Deals in Scotland to more than £1bn. All of Scotland's seven cities either have, or are in negotiation for, a deal. And talks are also under way on the Borderlands and Ayrshire growth deals."
He added: "The UK government is working hard to boost economic growth right across the UK. We want to work with the Scottish government where we can to ensure the sustainability and prosperity of Scotland's economy."
'New chapter'
Scottish Economy Secretary Keith Brown said: "I am delighted to have secured the agreement for a City Region Deal for Stirling and Clackmannanshire which will deliver over 5,000 new jobs and inclusive growth across the region.
"The Scottish government has been fully committed to this deal throughout and I have been clear about the importance of this region to Scotland.
"That is why we are prepared to invest at the level we expected, to ensure the region delivers its economic potential.
"Our additional £5m of investment means our total contribution to the people of Stirling and Clackmannanshire is £50.1m."
Stirling Council leader, Scott Farmer, said: "This deal will help Stirling Council write the first page of a fresh new chapter in this area's ancient, famous and storied history. Today we focus on our future by using this investment to not just build on what we have and know, but to expand, grow and truly flourish in the modern world.
"Our aim is to bring change and innovation to the people, businesses and communities of the entire region and the funding brought forward with the City Region Deal puts the power in our hands to achieve that."
Clackmannanshire Council leader Ellen Forson added: "I believe that the joint City Deal bid provides a unique opportunity to promote shared and sustainable growth in our region over the next 10 years and beyond, building on Clackmannanshire's strengths whilst helping to change the lives of our disadvantaged and excluded residents."