NHS Tayside mental health inquiry plan 'progressing well'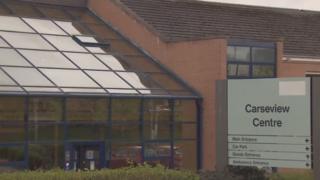 NHS Tayside said plans for an independent inquiry into its mental health services are "progressing well".
A probe had been ordered into Dundee's Carseview Centre but was expanded following a campaign by families of people who took their own lives.
NHS Tayside said families, the public and external stakeholders will "shape and agree" the scope of the inquiry.
It is expected to review safety, care standards and access to mental health services.
NHS bosses ordered the Carseview review after David Ramsay, 50, took his own life in 2016 just days after twice being sent home from the unit.
Mr Ramsay's family has been campaigning for a full public inquiry into mental health provision in NHS Tayside.
NHS Tayside said three potential chairpersons have been identified to lead the inquiry.
The proposed chairperson will then meet the families before a final decision is made on the appointment.
The health board said the person leading the inquiry will be supported by "high-level professional advice from a leading psychiatrist from outwith Tayside."
The Health and Social Care Alliance Scotland, known as the Alliance, will lead the involvement of patients, families, the public, the third sector and mental health charities to the inquiry.
NHS Tayside chairman John Brown said an interim report on the inquiry should be provided to the board by the end of September.
He said: "We have been working hard to ensure that this inquiry is set up in the right way from the beginning.
"I am pleased to report that all those we approached to play a role in this critical review have been supportive from the outset and the inclusion of the Alliance demonstrates our commitment to it being truly independent and giving a voice to the concerns of families and the public."