Abertay University students help search for new leads in cold cases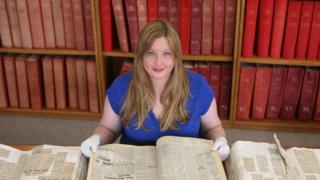 Abertay University students will search press articles dating back to 1971 as part of police investigations into almost 30 cold cases.
The team will focus on cuttings relating to cases of unidentified bodies and body parts, which have never been matched to a missing person or victim.
The project is part of National Missing Persons Week.
The students are drawn from psychology, criminology and forensic science.
Abertay MSc psychology student Sarah Webb is co-organising the newspaper search.
She said: "As soon as I heard about the opportunity to assist Police Scotland in finding missing loved ones I felt compelled to help with this investigation.
"I hope that the work we are conducting ends up providing some closure to families or at least reassurance that even after 47 years people do care and are still looking."
The university said that the case information provided by Police Scotland does not take in all current cases of unidentified remains, but focuses on cases where this type of archive work can be useful.
It said the project will potentially highlight possible links for further investigation, leading to forensic tests which technological advances have only recently made possible.
Dr Penny Woolnough, Abertay's senior lecturer in forensic psychology, said "People go missing for a whole range of reasons, including mental health issues, family or financial problems and even foul play, so there are a huge number of angles for the team to look at."
Ch Insp Lex Baillie said: "Dr Woolnough's department at Abertay has been a key partner in missing person research for more than 10 years and this project draws on proven expertise in the field."