'I hold NHS Tayside responsible for Sophie's death'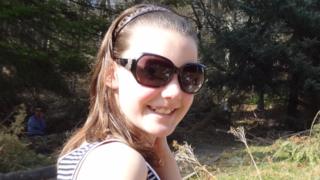 The mother of a teenage girl who took her own life said she holds NHS Tayside responsible for her daughter's death.
Ruth Moss's daughter Sophie Parkinson died in 2014, aged 13, after "six years of really struggling and being in a system that let her down badly."
Mrs Moss said she is "absolutely sure" Sophie would still be alive if she had been given appropriate medical care.
An independent inquiry into mental health services across NHS Tayside was commissioned earlier this month.
Mrs Moss, who is suing the health board, said she believed NHS Tayside's Child and Adolescent Health Services (CAMHS) viewed two previous suicide attempts by Sophie as "childish cries for help".
Mrs Moss told BBC Scotland that she believed the CAMHS risk assessment of Sophie was "hugely inadequate."
She said: "I'm absolutely sure that if CAMHS had given a good standard of care, nothing exceptional, just standard of care, and had had some element of accountability throughout the process, then Sophie would be alive today.
"I hold NHS Tayside responsible for Sophie's death. It's made me angry, upset, hurt - a whole barrage of other feelings."
Mrs Moss, who formerly lived in Liff, near Dundee, said her "bubby, brilliant child" had been referred to CAMHS when she was eight, after showing signs of behavioural problems and low self-esteem.
Mrs Moss, who is a nurse, said Sophie's difficulties became "a lot, lot worse" as she grew older.
'Fatal combination'
She said: "It was almost like that combination between hormones and mental health was a fatal one for Sophie.
"As Sophie's condition worsened she started to see a trainee psychologist.
"It was at that point really that Sophie became very unwell and it was at that point I felt the services started to let us down.
"She self-harmed quite significantly.
"She tried to kill herself on two previous occasions and neither of those were really taken seriously by NHS Tayside."
Mrs Moss, who now lives in Edinburgh, said Sophie was deemed unsuitable for in-patient care despite repeated requests.
She said: "I actually approached her psychologist and said Sophie needs to be admitted.
"The feeling I was left with was she wasn't bad enough.
"Sophie had two previous (suicide) attempts and she self-harmed. In spite of all that information it wasn't deemed appropriate."
Miss Moss said while she had "nothing against" Sophie being seen by a trainee clinical psychologist, there needed to be a level of senior involvement in terms of risk assessment and children presenting as high risk.
She said: "That was lacking in Sophie's case.
"I came out feeling that Sophie was let down by a service that didn't take her seriously and didn't take me seriously."
Mrs Moss said that the "end result" of this was that Sophie took her own life.
She said: "The warning signs were there and in my view should have been picked up on by professionals that are in this every single day.
"I come from an acute setting where patient safety is paramount, patient care is paramount.
"If somebody is deteriorating on an acute ward there is a process for risk assessing that person and making sure that intervention happens."
Mrs Moss said she believed the investigation following Sophie's death was inadequate.
She said: "That was not robust and rigorous in my view. It tended to pick the things I'd complained about and answered them, but it wasn't an independent review process.
"NHS Tayside investigate NHS Tayside. Turkeys don't vote for Xmas and there seems to be a flaw in that right from the start.
"We need a process here whereby parents of children who have died in the health service have an ability to find out what went wrong and be absolutely reassured that the investigation is robust."
Mrs Moss said the forthcoming independent inquiry must include a "robust and rigorous investigation" of CAMHS.
She said: "I would also like the process for investigating deaths in mental health to be looked at to ensure there is a good investigatory process set up where a health board isn't examining its own procedures, there's an independent process in there that works when these deaths occur."
Mrs Moss said she has kept in contact with Sophie's friends and their parents.
She said: "When you lose a child you don't just grieve the loss of that child at that time.
"I've watched them grow up, I watch them learn to drive, I watch them go to university.
"My child will never have that opportunity."
An NHS Tayside spokeswoman said: "As this is a legal matter we are unable to comment.
"Every suicide is a tragedy and our thoughts remain with the family."