Work on Dundee's £32m sports hub begins at Caird Park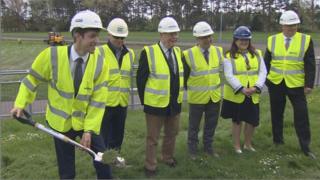 Work has started on Dundee's £32m Regional Performance Centre for Sport at the city's Caird Park.
The hub will include an indoor athletics centre and the existing athletics track is to be resurfaced, with a spectator area added.
A £5m energy centre will be included in the construction project which is expected to finish next year.
Councillor John Alexander marked the start of work at a ceremony in the park.
He said: "This ambitious project will provide superb sporting facilities alongside an energy centre that will make a significant contribution to our vision of Dundee as a sustainable city.
"The regional performance centre will bring huge benefits for the city and our people and reflects our drive to make Dundee a better place for all. "
The recently resurfaced velodrome is to have a new area of hardstanding provided for competition, along with upgraded floodlighting.
The centre will also include an eight-court multi sports hub with spectator seating and a sport science suite.
Other facilities will include FIFA standard indoor 3G football pitches and an outdoor artificial rugby-sized pitch.
'Increased opportunities'
Mr Alexander was joined at the ceremony by representatives from contractor Balfour Beatty and Leisure & Culture Dundee
Graham Wark, head of leisure and sport at Leisure & Culture Dundee said: "We look forward to what will be a top class training and sporting venue for the city and wider region.
"The Regional performance Centre will complement Dundee's existing facilities, enabling greater access for local clubs, communities, individuals as well as for elite athletes.
"This means there will be increased opportunities for children and adults from all backgrounds to get involved in sport and physical activity which is something we particularly welcome."