Annalise Johnstone death in Perthshire is suspicious, say police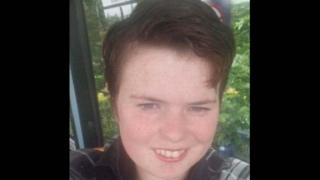 The death of a woman whose body was found by a roadside is now being treated as suspicious by police.
Annalise Johnstone, 22, from Ardrossan, Ayrshire, was found in a wooded area by the B8062 between Auchterarder and Dunning last Thursday.
Police Scotland has released details of a silver Ford Galaxy, registration ST67 HXL, that she travelled to Perthshire in.
Officers also want to trace the woman's iPhone, wallet and medication.
Det Supt James Smith confirmed Ms Johnstone's death was being treated as suspicious and that the silver car had been recovered.
He said: "That is obviously the vehicle which Annalise has travelled in from Ayrshire up to Tayside.
"Her movements are absolutely critical to my investigation. She has been in that vehicle and that will assist me in understanding where she has been and where she has maybe stopped off.
"There may well be someone out there who has seen that vehicle stopped, doing something that they thought was unusual. So I want to to explore every avenue around that vehicle."
Det Supt Smith said the decision to describe the death as suspicious was "to make the public aware that this is not just a run-of-the-mill death out in the countryside".
He said: "There are more elements to this that we have really got to drill into.
"There's a complex scene that we are working our way through with forensic examinations - the injuries, the pathology, the experts that can help us assess all this information to collectively come to a reasonable explanation if we can."
The officer added: "I would like to take this opportunity to offer my sincere condolences to the family and friends of Annalise at this time.
"We have specialist officers assisting the family through these difficult times.
"Our inquiries are continuing to establish the full circumstances surrounding this death and I would like to appeal to anyone who may have any information to come forward.
"Officers are carrying out forensic examinations as well as reviewing CCTV and speaking to the local community in and around the area."
Missing belongings
He said Ms Johnstone left her home address in Ardrossan at about 17:00 on Wednesday 9 May and had travelled to the Tayside area where she has relatives.
She was last seen near Ruthven Court, Auchterarder, at about 22:00 that day having been dropped off there.
Detectives also want to trace personal items belonging to Ms Johnstone.
Det Supt Smith added: "We are also looking to trace her iPhone 5s mobile phone which is lime green in colour, within a red flip style case, and a small wallet which has the Marvel superheroes thereon.
"A clear bag of medication which is 4-5 inches in size which will have a sticker on it with Annalise's name is also missing.
"We are doing everything we can to try and find out what has happened to Annalise and would seek the assistance of the public in that respect.
"Please get in touch with us even if you think your information may not be relevant to the enquiry, it may prove vital in establishing what has happened to Annalise."
Ch Insp Ian Scott, local area commander for Perth and Kinross said: "We are aware the incident may raise concerns in Perthshire and the wider community but I would like to take the opportunity to reassure the public that there will be a visible police presence whilst investigations are carried out.
"I would like to thank the local community for their patience whilst this is ongoing and if anyone has any concerns or information, they should speak to an officer."