Former NHS Tayside chief executive 'still employed' by health board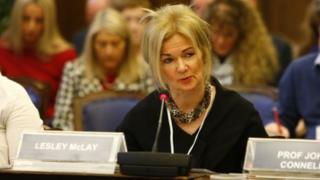 The former chief executive of NHS Tayside went on sick leave the day after being told she could not continue in her role, MSPs have been told.
Lesley McLay was replaced in April after health secretary Shona Robison described her position as "untenable".
The health board has received Scottish government "brokerage" loans of £33.2m in the past five years.
NHS Scotland chief executive Paul Gray said Ms McLay had not been dismissed by the health board.
Mr Gray was giving evidence at Holyrood's public audit and post-legislative scrutiny committee.
NHS Tayside's top management team was replaced after cash from a charity endowment fund was used to pay for projects including a new IT system.
Mr Gray told MSPs that he met Ms McLay on 5 April to tell her that the Scottish government was increasing its intervention in the running of the board.
At this point he said she was unable to remain as chief executive as her "accountable officer status would be removed".
Mr Gray said "That doesn't cause her to cease to be an employee of NHS Tayside. It stops her being chief executive."
Mr Gray said that the following day NHS Tayside's medical director Dr Andrew Russell told him that Ms McLay had been signed off sick by her doctor.
He said that Ms McLay "remains an employee of NHS Tayside"
Mr Gray told SNP MSP Alex Neil: "At the moment she doesn't have a job because she is off sick.
"But when she is able to return to work we will agree with her what her future employment status should be."
Mr Neil asked: "How do you get dismissed as chief executive and remain an employee? If anybody is dismissed from a job, you are dismissed."
Mr Gray replied: "If you are an employee of the NHS and you are taken through a disciplinary process and dismissed, that is quite a different thing from being told your accountable officer status is being taken away.
"Even if someone does go through a process it is not impossible for them to be offered another role, at a different level, elsewhere in the service."
"It is important we go through a proper employment process with every employee."