Sex offender accused of Falkirk abduction bid is cleared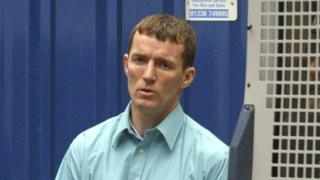 A convicted sex offender will be released from prison after a jury acquitted him of attempting to abduct two little girls.
John Bermingham, 51, stood trial accused of trying to seize the youngsters in Falkirk in May last year.
The girls said he had approached him while they played and tried to get them to go to a house with "treats".
But after a trial at the High Court in Edinburgh, jurors returned a not proven verdict.
Bermingham was previously jailed for 12 years for sexually assaulting a woman and a schoolgirl in the space of one hour in Edinburgh.
'Human beast'
The families of the young girls, one of whom was just 10-years-old, walked out of court when the decision was announced, shouting: "Wait until you find out who he is. He's a human beast."
The court heard evidence from the girls that a man approached them while they played on the town's Glenburn Road and told them he had lost his jacket.
They said the man offered them £5 if they helped him find it. He also told them about a house in woodland which contained treats.
The girls could not identify the man.
But 49-year-old Viper MacDonald saw the man with the girls from the window of his nearby home and rushed to stop him.
Mr MacDonald was helped by a 17-year-old boy, who cannot be named for legal reasons.
Mr MacDonald said the man he seized was Bermingham and he told the court that the accused was the man he saw with the little girls.
Police arrested Bermingham and when they took him into custody, officers discovered condoms, sweets and sleeping pills in his possession.
Previous attacks
Prosecutors thought they had enough evidence to prove that Bermingham was abducting the girls with the intention of committing a sexual assault on them.
But on Thursday jurors returned a not proven verdict to the charge and a not guilty verdict to a second charge of assaulting the 17-year-old boy during the struggle.
The jury were unaware of his previous conviction for a sex attack on an 18-year-old nursing student and 11-year-old girl less than hour apart in November 2000.
Following the verdict, Lord Beckett praised Mr MacDonald for his actions.
He said: "I would like to thank Mr MacDonald for his publicly responsible actions. His actions were within the law and he acted in an entirely proper and commendable way."