Concerned mother 'failed' by police call handlers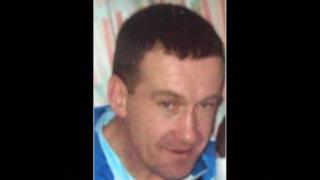 A police watchdog said three calls made by the concerned mother of a 51-year-old man were not handled appropriately.
Barry Croal's body was discovered at his home after his mother phoned police a fourth time, two days later.
The Police Investigations and Review Commissioner (Pirc) said Mr Croal's mother experienced a "variety of failures" by three separate employees.
It said there was evidence of an "apparent reluctance" to transfer the calls to the correct department.
Officers were sent to Mr Croal's home in Fallin, Stirlingshire, more than 38 hours after the initial calls from his mother.
Commissioner Kate Frame said that despite Mr Croal's mother phoning police three times on 20 February 2017 to report concerns for her son's safety, no action was raised and police officers were not sent to inquire about his safety.
'Variety of failures'
Ms Frame said: "In her earlier calls, she made it clear to both police officers and a member of civilian staff that nobody had seen her son for a number of days and that she had been unable to get into his house because it appeared that the door had been locked with keys from the inside.
"Barry Croal's mother experienced a variety of failures by three separate police personnel within a 10-minute period, which must have undoubtedly been very frustrating and ultimately a distressing experience for her."
Mr Croal's mother first called police at 18:36 to express concerns that she was unable to get into her son's house, and to inquire if he was in custody.
She was transferred to a duty sergeant who told her Mr Croal was not in custody and she would have to redial on the 101 number to report her son missing.
After selecting the wrong option on her second call at 18:39, she was told to redial.
She repeated her concerns on the third call at 18:42, and believing the operator would call her back, Mr Croal's mother ended the call.
The adviser did not call her back on the number which she had provided, but instead updated the call log with the words "advice given/resolved".
'Sorely missed'
After calling police two days later and telling them she had expected to be called back, officers were sent to her son's home.
A doctor attended and certified the cause of death as a gastrointestinal bleed, but an estimated time of death could not be determined.
Ms Frame has recommended that police call handlers take information and transfer the call rather than ask the caller to redial.
A statement on behalf of Mr Croal's family said: "Barry was a father, son, partner and brother who is sorely missed.
"It has been just over a year since his death and the circumstances surrounding it have made it difficult for us, as a family, to come to terms with.
"We are aware of the Pirc report and the findings contained within it and we hope that Police Scotland take note of these findings so that no other family has to experience something similar."