Dogs and buzzards die after being deliberately poisoned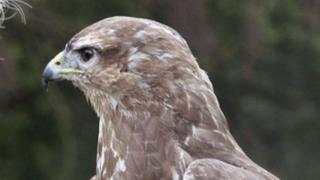 Police in Highland Perthshire are appealing for information after three working dogs and two buzzards were deliberately poisoned.
The incidents took place between October 2017 and April this year in and around the Edradynate and Pitnacree Estates area.
The poisons used to kill the dogs and birds are banned in the UK.
A Police Scotland spokesman said the animals' owners were "understandably upset" at the loss of their dogs.
He said: "Once again, we also find ourselves investigating the illegal killing of raptors and this is extremely disappointing.
"We have searched the areas and our investigations to date would suggest that there is not a wider threat to public safety.
"However, all members of the public in the area are asked to remain vigilant and report any suspicious behaviour, especially during the hours of darkness."
A spokesman for the Edradynate Estate said: "These are appalling incidents that have affected local estates and farms.
"We reported a number of these incidents to Police Scotland and have been working closely with them to provide help to the investigation.
"But, in spite of this, we have most recently seen the terrible death by poisoning of a sheepdog when it was most needed during the lambing period."