'I'm not a great one for legacy' - Prof Dame Sue Black's farewell to Dundee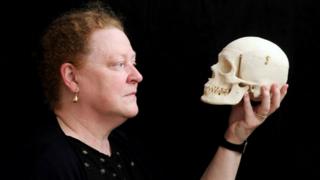 One of the world's leading forensic scientists is not one for legacies, farewells, or it seems, packing.
"I'm trying not to think about it," says Prof Dame Sue Black, on the challenge of finding a new house, the result of her "exciting" move to Lancaster University.
Prof Black leaves behind the Centre for Anatomy and Human Identification (CAHID) and the Leverhulme Research Centre for Forensic Science, both created during her 15 years at Dundee University.
The professor and her team have developed new forensic techniques, including identifying child abusers through vein and skin patterns.
Their work resulted in the conviction of Scotland's largest paedophile ring in 2009 and the recent conviction of Richard Huckle, the UK's most prolific paedophile.
Inverness-born Prof Black received a Damehood in 2016, for which she was both "more than a little embarrassed" and "deeply honoured".
"I'm not a great one for legacy," she said. "I'm a great believer that whoever's in the post at the time, it's their job to make it as good as they possibly can.
"I know it sounds terribly clichéd but I'm actually proud of absolutely everything. You don't do anything on your own, you only do it as part of the team."
Prof Black, 57, said the decision to leave Dundee was not in her "great scheme of things".
She said: "I had decided perhaps another four years and then I'd think about retiring."
Then, her former boss Stephen Decent, now at Lancaster University called to offer the newly-created role of Pro Vice-Chancellor for Engagement.
She said: "He said we've just created this job, I think it has your name written all over it.
"'I'd love to work with you again, would you think about it?'
"I hadn't had that in my mind at all, but it's about setting the strategy for engagement for an entire university.
"That's exciting and that's a big step change for me."
The professor's final months in Dundee have been suitably busy.
In addition to her university work, she oversaw a restaging of the trial of William Bury, the last man to be hanged in Dundee, held in the city's sheriff Court and presided over by judge Lord Matthews.
The professor also published her first book, the autobiographical All That Remains, and embarked on a sold-out series of appearances to promote it.
She said: "My father was a great storyteller and when he developed Alzheimer's, it robbed all of us of his stories.
"I felt that I never had them for me or my children to hear again or for his great grandchildren to hear.
"That for me was always a great sadness.
"It's about being able to say to your children, your grandchildren, or your great grandchildren who aren't even twinkles in anybody's eye yet - this is who she was, this is what she did, and here it is in her own words."
CAHID was created in 2008 to bring together the fields of anatomy and forensics.
It set up the first forensic anthropology programme in the UK, and wrote the first textbook "by students, for students".
Prof Black said: "We ran the UK's National Response to Disaster Victim Identification, so all the police officers who get deployed overseas or on home ground for mass fatality incidents were trained up here.
"We were also awarded the Queen's Anniversary Award for Higher Education, and that's the first time either an anatomy or forensic department in the UK has ever received that honour."
'Utter pleasure'
Prof Black said that Dundee had been "incredibly kind" to her during her time in the city.
She said: "The people are wonderfully honest, they are so not afraid to tell you what's on their mind and I love the openness of that.
"I will miss the community that Dundee has.
"From the taxi drivers who all know what I do for a living, to the hundreds of people that turn out every time we have a public event here.
"There is a real community spirit within Dundee and to see it developing and changing over the 15 years that I've been here has been nothing short of an absolute and utter pleasure."