'No doom and gloom' at Brechin City's prospect of season without a win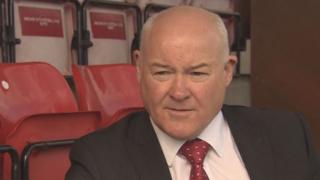 Brechin City's chairman said there is no air of "doom and gloom" despite the club facing the prospect of finishing the season without a win.
The Angus team's final game of the season takes place at home on Saturday against Queen of the South.
If they do not win they will become the first senior Scottish side to fail to pick up a victory in a season since Vale of Leven in 1891/92.
Brechin City won promotion to the Championship last season.
However, the part-time side have struggled to compete with their full-time rivals and have only picked up four points - all draws - this season.
Club chairman Ken Ferguson said: "We went into it fully aware of how difficult a task it was going to be.
"We obviously did expect to win some games along the way.
"That hasn't occurred as yet, we obviously still have our last home game tomorrow.
"It's been a difficult journey but certainly one that we don't regret in any way."
Mr Ferguson said that the players and backroom staff at Glebe Park had "never let their heads go down" at their plight.
He said: "Every Saturday that dressing room has been buzzing.
"They want to do well, they want to perform for the fans.
"That is a great positive out of the season, how the spirits have been maintained on the park and off the park.
"The vast majority of our fans have supported us greatly throughout the season.
"It's certainly not all doom and gloom around the place."
Manager Darren Dods said the season had been "difficult and challenging" but praised his team's positive attitude.
He said: "It's been hard for the players but they've never lacked effort or attitude or whatever.
"That's the thing about them, they want to work hard.
"For most of them they've probably improved this season, it's just the gap between us and the full-time teams."
The manager said a win against Queen of the South would be a "great way to end the season."
He said: "They probably didn't envisage it going the way it has this season.
"But if they can take that experience, we can rebuild the squad and have a go at coming back next year.
"They're hard working, they've given it their all all season, and they've been committed.
"Hopefully they can win it, but sometimes you don't always get what you deserve in life."