Man, 86, offers housebreaker a lift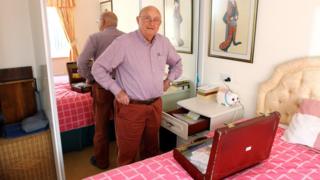 An 86-year-old man who offered a lift to a man who had broken into his Perth home said he "felt sorry" for the would-be thief.
Harry Turner had returned to his house after forgetting to take a newspaper to a visit to his local pub.
Mr Turner said he discovered the housebreaker in his bedroom with the top drawer of his bedroom cabinet open.
The housebreaker fled after Mr Turner turned his back to lock his front door after offering the man a lift.
'Felt remorse'
Mr Turner told BBC Scotland's Stephen Jardine Programme that the experience had been "absurd".
He said: "I felt remorse for this young man.
"A fine young Scotsman in his mid 20s, to resort to this in his life.
"What a shame, what a disaster. I just felt sorry for him."
Mr Turner, who has lived in the house for 17 years, said he had not locked his door after leaving for the pub because "there's never anybody about here".
When he returned he said he "knew something wrong" as the back door was wide open.
'Looked bewildered'
Mr Turner said: "I looked up the corridor to the bedroom and there was a young man standing by my bed in the top drawer of the bedside cabinet with several of my Masonic cases open.
"It happened so quickly I didn't know what I was doing really, I just asked him what he was doing here, what does he want?"
Mr Turner said the man reassured him he had not stolen anything and "looked a bit bewildered himself."
He said: "He showed me no aggression at all and he let me look into his little handbag and he'd got nothing in there."
After walking the man out of the house Mr Turner asked if he could help and the man asked if he could have a lift.
Mr Turner said: "I said where do you want to go and he said North Muirton.
"So I went back to lock up and when I'd come back he'd gone."