'I just want people to look up to me as a transgender pageant queen'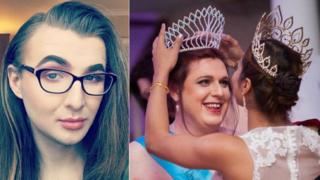 In 2018, beauty pageants are probably as popular as ring girls in boxing or grid girls in Formula 1.
But one competition is going from strength to strength.
The prize is gender reassignment surgery in Thailand worth thousands of pounds.
The catch is contestants are required to be transgender.
Scotland's only entrant in the Miss Transgender UK competition, now in its third year, is 26-year-old Aria Welsh from Perth.
Aria was born a man and lived as Thomas until the age of 23.
She told BBC Scotland's Kaye Adams Programme: "When I was at school I was very feminine and flamboyant and got bullied quite a lot.
"People would call me gay. I thought because they said that, it must be true.
"I was attracted to men. So I lived life as a gay man for a while and met my now ex-fiance.
"But the wedding was coming up and I wanted to be who I am, so I came out to him and it was the beginning of the end for our relationship."
When she looks back, all the signs were there.
Bea Wood - Miss Transgender UK 2017
Bea Wood, 29, said she won a voice when she took the title last year.
"It has given me a platform to go further and be listened to and people are listening to me now.
"The title is really about becoming a spokesperson for the trans community because we don't have one.
"It is about telling people that being trans is okay and being a role model.
"I would tell Aria to never give up, put your heart into it and spread the message."
Make sense
Interested in makeup and beauty, Aria had taken part in drag shows and eventually she didn't want to take the make-up or the clothes off.
"I started thinking back to when I was younger and I used to wrap a towel around my head and swing it around like it was long, flowing locks, and I used to sneak in when my mum was at work to try on her shoes.
"My childhood started to make sense."
Aria started transitioning socially three years ago and says it was a watershed moment: "It was like the biggest weight had been lifted off my shoulders.
"And when I started hormone therapy, that was an even bigger weight.
"It was literally like a sense of calm, a sense of relief that everything was going to be okay. And that this was the beginning of the rest of my life."
Miss Transgender UK is a pageant with a difference.
Those who make the final take part in "traditional" evening gown and talent rounds but in order to be selected for the final the contestants have to compete in raising the most cash for their chosen charity.
The final takes place in Cardiff in November and one lucky winner gets £10,000 worth of transgender surgery.
Aria is campaigning for SANDS, the stillbirth charity.
She said: "It is not a traditional pageant. It's not to do with the outside. It's to do with you heart - your community, who you are raising money for and how you conduct yourself on and offline.
"My little brother was stillborn 15 years ago. I don't know where I would be without their help when I was younger.
"It was one of the hardest times of our lives as a family."
Aria has great support from her family - her mum and her gran. She gets upset hearing about parents disowning their children.
She wants to be Miss Transgender UK to give something back.
She said: "I want to be someone people look up to and think they can do it too.
"Last night on social media someone opened up to me - they felt like they had been trans since they can remember but they are married and have children - that touched me and I always said if I can help one person, all the tough things I have been through will have been worth it."