A801 carriageway cracks repair work delayed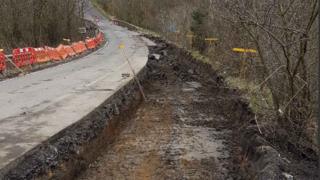 Work to repair significant cracks on the A801 Avon Gorge road will take three weeks longer than expected.
The road was closed for five weeks of emergency repairs on 21 March after "real concerns" from Falkirk Council.
The authority said "unforeseen site difficulties" meant the road would now stay closed until 18 May.
The council's roads team initially found slippage on the adjacent embankment and soft verge, causing a potential danger to road users.
An eight-mile signposted diversion is currently in place while repair work is carried out.