'Tremendous team effort' rescues stranded porpoise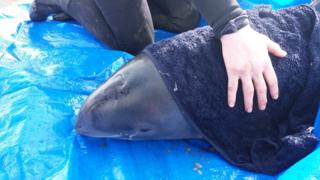 A female porpoise has been rescued by an animal welfare charity after becoming stranded in Grangemouth's Grange Burn.
The Scottish SPCA was alerted after a member of the public spotted the mammal.
The porpoise was transported about 12 miles to Blackness, where it was returned to deeper waters.
The SSPCA said it believed that the porpoise had become disorientated and "caught out" by changing tides.
Animal rescue officer Bob Ward praised a "tremendous team effort" between his colleagues and the British Divers Marine Life Rescue.
He said: "We were alerted to a porpoise that became stranded in shallow waters in Grange Burn.
"The tide had already gone out so we laid wet towels on top of her and transported her to Blackness where we managed to get her into deeper water."