Dundee librarian uncovers 'secret code' in books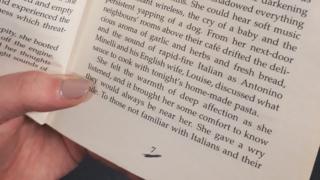 A Dundee librarian who thought there was a "secret code" hidden in a series of books has found the solution was far more prosaic.
Georgia Grainger, 23, began working at Charleston Community Library in Dundee six weeks ago.
She soon discovered multiple books from the same wartime romance series had the page seven underlined in pen.
Georgia shared her discovery on Twitter as the Mystery of the Page 7 Vandal and her tweets went viral.
She had 9,000 retweets and more then 25,000 likes.
However, Georgia discovered many older visitors would make a small personal mark inside a book.
Georgia was alerted to the secret code when a member of the library asked her why all the books she was reading had page number 7 underlined.
Georgia told BBC Radio Scotland's Kaye Adams Programme: "I was totally baffled. They were all underlined in a very similar way, they looked to me like it was all the same person."
"They were all what we affectionately call, 'wee auld women books', romances set in World War Two Britain that are very popular amongst our older patrons.
"I have a bit of an overactive imagination, so I was coming up with all sorts of theories, like there was a serial killer in the library or spies using it as a secret code to communicate.
"The head librarian told me it was a lot less exciting than what I thought."
Georgia was told that older people often make their own signature markings in the books to remind them they have read them.
It was a method for people to keep track before libraries had computer systems to keep a record of their borrowing.
Georgia added: "It's different symbols for different people. Some write their initials inside the front or back covers or some people circle their house number."
She tweeted: "So, good news: there's not a serial killer in the library whose MO include the number 7 and wartime romances. Bad news: people are defacing books rather than just asking us to scan them."