Cats killed by anti-freeze poisoning in Stirling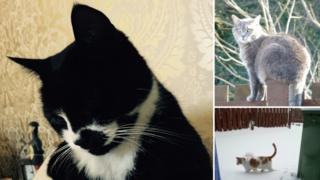 Pet owners in Stirling have been warned to be vigilant after three cats died after being poisoned with anti-freeze.
The cats were taken to a vet after displaying symptoms when they returned to their home in the city's Kirkside Crescent on 18 March.
The Scottish SPCA said a post-mortem examination on the animals, named Louis, Mylo, and Trigger, showed they had ingested anti-freeze.
The charity said poisoning an animal could cause a "slow and painful death".
An SSPCA undercover inspector said: "The poisoning of domestic animals is a huge issue and we deal with a large number of complaints regarding poisonings and they are incredibly difficult to solve due to the nature of the crime."
Symptoms include vomiting, lethargy and, in the latter stages, head shaking and coma.
The inspector said: "We ask anyone with information to get in touch.
"All information will help to prevent any more animals being needlessly killed.
"All information is dealt with confidentially."