Balquhidder installs own broadband network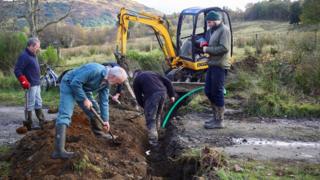 Residents of a Stirlingshire village have installed their own 22-mile broadband network.
About 200 households and businesses have been connected to the Balquhidder community broadband project.
The project has cost about £300,000 with the funding provided by private and public investors, including Stirling Council.
Work started on the the project last year.
The network is now operational.
Local volunteers were involved in digging trenches and then laying protective plastic piping for the fibre optic cable, which was blown through the pipes with compressed air.
Residents have had sporadic mobile phone reception and very low, or non-existent, internet connections.
They have been campaigning for greater internet access in the area for more than 10 years.