Financial system failures allowed council worker's £1m theft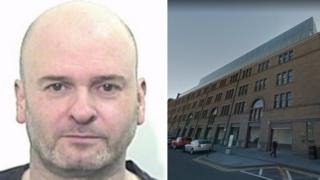 The Accounts Commission said failures in Dundee City Council's financial systems allowed a former employee to steal £1m from the authority.
Mark Conway was jailed for five years and four months in 2017 after admitting carrying out the seven-year fraud.
The Commission's report said this could have been limited if the council had addressed "significant weaknesses in its invoicing systems."
It said the council has since addressed the issues that led to the fraud.
The Accounts Commission also noted that the council acted quickly in response to the discovery of the fraud, and has taken "significant steps to improve its resilience to prevent future fraud and corruption".
IT officer Conway stole the money between 2009 and 2016 after running up debts on gambling websites.
He used his expert knowledge of the authority's IT systems and his system access privileges to insert fake invoices into the council's financial systems.
The council said the money has now been recovered.
Accounts Commission chairman Graham Sharp said: "Lessons must be learnt from this serious and prolonged act of fraud.
"Our role is to provide the assurance people expect that all councils have in place robust checks to ensure public money is properly spent and accounted for.
"This case provides clear lessons for every council in Scotland."
Independent review
The Commission's findings will go before Dundee City Council on 23 April.
A council spokesman said: "An independent review of procedures has already gone ahead and measures have been put in place to strengthen controls.
"The council has been engaging with Police Scotland to ensure that lessons are learned from the fraud by other local authorities and public sector agencies.
"Dundee City Council was involved in ongoing efforts which ensured that the funds taken from the authority by this individual were fully recovered."
Local government group Cosla welcomed the report and noted the council's independent review.
A spokesman said: "All of Scotland's councils have robust procedures to mitigate against acts of fraud.
"These are regularly monitored, reviewed and updated.
"Councils are no different to other organisations, in that they will continue to take action to prevent this type of thing from happening in the first place."