Provider warned after 'significant concerns' over three care homes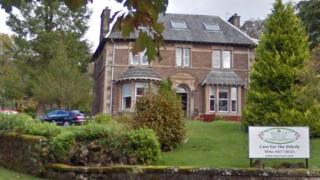 Three Stirlingshire care homes operated by the same provider have been told to make urgent improvements.
"Significant concerns" were raised following inspections at Ashford House in Bridge of Allan, and Ashlea House and Ashwood House in Callander.
Care Inspectorate visits to the two Callander premises in late February found broken heating systems that left both homes "unacceptably cold."
The homes are all operated by care provider Mauricare.
All three care homes have been served with formal notices to improve their facilities and make a "significant improvement in provision of the service".
If they fail to do so, the homes face having their registrations cancelled under the Public Services Reform (Scotland) Act 2010.
Contingency plans
The improvement notices require Mauricare to show that they have plans for alternative heating arrangements if a similar breakdown happens in the future.
Service contracts must also be in place to maintain, service and repair all equipment and facilities in the care homes.
Ashlea House must also ensure that there is adequate heating in all areas of the care home.
A Care Inspectorate spokesman said the three homes will be monitored and follow-up visits carried out.
He said: "We have served these formal improvement notices to ensure that the care improves quickly, and that residents experience a quality of care which they have the right to expect.
"We will continue to monitor all three care homes and will visit each one to check on progress.
"If we are not satisfied that the changes we require have been met we will not hesitate to take further action."