Osprey Lassie waits for mate at Loch of the Lowes reserve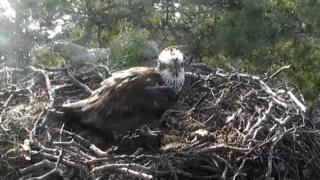 Female osprey Lassie has arrived back at Scottish Wildlife Trust's Loch of the Lowes reserve in Perthshire for this year's mating season.
Lassie, whose official name is LF15, touched down at the reserve on 20 March, three days earlier than in 2017.
Staff and volunteers at the centre are now waiting to see if she will be joined by long-term mate LM12 for a fourth season.
The pair have fledged eight chicks since becoming a pair in 2015.
Rachael Hunter, Perthshire ranger for the Scottish Wildlife Trust, said: "LF15 isn't ringed but she is easily identified by the tell-tale 'y' of dark feathers around her face.
"She's only been back at the reserve for a few hours but she seems very much at home."
The ospreys' progress can be followed on the Loch of the Lowes live webcam.