So terrified of eating I stopped growing at 11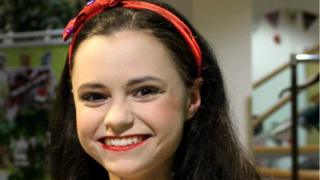 A talented young dancer was so afraid of food, she stopped growing at 11 years old.
Errin Godwin Whalley's allergies made her terrified to eat, and she was the size of a six-year-old when she was almost twice that.
Errin, from Pitlochry, had her first reaction to food when she was one and had to be airlifted to hospital.
After that she refused all food to the point where she needed a feeding tube to survive.
Speaking to the BBC's Kaye Adams Programme, Errin describes the beginning of her eating problems: "I remember just being so scared of trying new things and only eating sausages and pasta - it was just that for quite a while.
"I was quite scared because I had got it in my head that food made me ill.
"When I was little I had an allergic reaction to food that I had.
"From that point on I thought food makes me ill and I stopped eating. And I just built up that fear of food.
"I would just refuse. I would be so tentative to try. Scared."
Underweight
Errin's mother Myette Whalley explained what happened: "We were on the way to North Devon in the middle of the countryside when Errin was about one. I handed Errin some hummus on a rice cake.
"She started reacting, lips swelling and changing colour and looking very ill. We had an air ambulance and ambulances trying to find us to get us to hospital.
"After that trauma she decided she was not going to eat at all. She just stopped.
"It got to the point we were in hospital and she was really really underweight and dehydrated and on a drip. We were seeing consultants and eventually they gave her a feeding tube."
Errin's condition was more than simply choosing not to eat. Dr Gillian Harris, a clinical psychologist specialising in food acceptance and refusal in childhood, says this happens to about one in 600 children.
She said: "Errin seems to have avoidant restrictive food intake disorder and I think she is also sensory hyper sensitive.
"People would say 'give her to me for six weeks and I'll have her eating', but they wouldn't. People also say 'oh they won't starve', but yes they will.
"This is not something children want to do. They are not being naughty and most parents have tried everything so it's not their fault."
Errin was also diagnosed with multiple pituitary hormone deficiency (MPHD), which makes her muscles weak and makes movement difficult.
The treatment for Errin's condition is not easy and took a long time.
Dr Harris said: "It really is very gentle. You allow the child to eat the foods they feel safe with.
"They are usually dry, brown/beige carbohydrates - what people think of as junk food.
"But it is not junk food for them because they need to eat them. Bread, cereals pasta, crisps, choc buttons, yoghurt. You keep going with the foods they do like and gradually away from mealtimes expose them to other foods. "
Now 17, Errin has beaten her fear, grown to the size of a small adult and won a place at the prestigious Ballet West dance school in Oban.
Mum Myette said: "When others were going off to ballet lessons at 11 she was in hospital seeing consultants.
"She also missed a great deal of school so had to catch up academically.
"With medical help and sheer hard work she gained the strength and techniques needed to become a ballet dancer.
"She has worked extremely hard to gain this place."