'Legal high' shop owners in court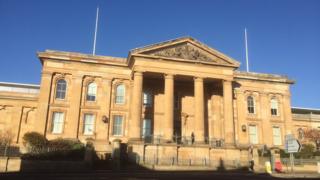 Two Tayside "legal high" shop owners have admitted selling substances that left eight customers requiring hospital treatment.
Paul Brocklehurst and Liston Pacitti sold new psychoactive substances from stores in Montrose, Arbroath and Perth.
Both men admitted causing "danger of injury and danger to life" by supplying the substances.
Brocklehurst, 62, of Gwynedd, Wales, and Pacitti, 28, of Aberdeen, will be sentenced in April.
Seven of the customers, including a 13-year-old boy, were from Brocklehurst's shop and the other was from Pacitti's shop.
Brocklehurst's offences were committed between July 2013 and July 2015 at This 'N That in Perth.
Pacitti's were committed between July 2013 and December 2014 at his stores, Declaration and Evape-O-Lution in Arbroath and The High Life and Evape-o-Lution in Montrose.
Both men were released on bail ahead of sentencing.