Dundee V&A architect backs waterfront plans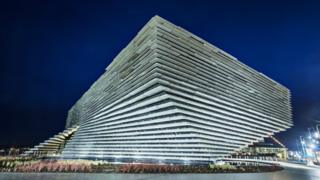 The architect behind Dundee's V&A museum has backed plans for its surrounding development.
Kengo Kuma described the plans, including a Marriott Hotel, as an "appropriate backdrop" to the building.
Work on site six, located immediately north of the V&A, began last month with plans including the hotel, office, residential and retail space.
Councillors approved plans for the site last June but a petition was launched by locals opposing them.
The petition said that the mixed-use development site would block views of the Tay, overshadow the museum and "ruin the whole feel" of the waterfront.
The V&A opens to the public on 15 September.
The city development committee will now meet on 26 February and will be asked to agree a letter of intent with Marriott Hotels International Ltd to operate on the surrounding site.
Of the three expressions of interest submitted to the council to operate a hotel at the site, Marriott's was considered the most favourable in financial and quality terms.
The accommodation will consist of 150 bedrooms, meeting rooms and a restaurant/bar.
Mr Kuma said of the development: "My building was always designed to complement and harmonise with its surroundings and the adjacent developments.
"It was never designed in isolation and was always meant to be part of a built environment with a flow of people and buildings with other uses in proximity.
"Dundee Waterfront is a stunning location and the planned developments will create a thriving platform for the city's ambitious regeneration and an appropriate backdrop for the V&A."
The Marriott will employ about 120 people in full-time jobs - plus a further 260 construction jobs during building works.
John Alexander, leader of Dundee City Council, said: "The hotel at site six is the perfect fit for our vision for the waterfront. It matches exactly the scale of ambition that we have for the area and the whole city and is a sign that developers, operators and investors are seeing the mutual benefit of being involved at Dundee Waterfront.
"This a good deal for the council and a good deal for Dundee."
Ahead of its opening in September, the Los Angeles Times has named the V&A museum as "one to explore" in 2018.
The newspaper described the £80m building as "a stylized ship floating on the River Tay".
The museum's opening exhibition will be Ocean Liners: Speed & Style, which will "re-imagine the golden age of ocean travel".