Man jailed for killing Gary McMillan in Dundee street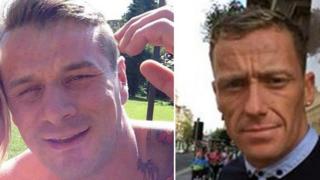 A man who stabbed another man to death in a Dundee street has been jailed for 12 years.
Arran Fender was found guilty of the culpable homicide of Gary McMillan, 44, on 16 May last year following a trial at the High Court in Edinburgh.
Fender, 31, was originally charged with murder but a jury returned a guilty verdict on the reduced charge.
The trial heard that the two former friends were armed with knives when they started fighting with each other.
Fender, of Dundee, stabbed Mr McMillan four times during the fight on the corner of Lawton Terrace and Lawton Place.
Fender said he stabbed Mr McMillan because his victim initially tried to stab him.
Jurors accepted Fender's claims that he acted in self defence.
Judge Lady Carmichael told Fender: "Gary McMillan's loss is, and will continue to be, felt deeply by his family.
"No sentence I can pronounce can repair the harm that they have suffered as a result of his death."
The jury heard that Fender and Mr McMillan had once been the "best of friends" but had fallen out in the months before the attack.
In the days leading up to the confrontation, the two men sent a series of angry WhatsApp messages to each other.
In one message Fender threatened to "kill" Mr McMillan and "put him in a box".
The trial was told Fender, who was armed with knife, arrived outside Mr McMillan's flat in the early hours of 16 May.
The court heard that Mr McMillan left his property also armed with a blade.
Fender said that Mr McMillan tried to stab him so he started "swiping" at his former friend.
The court heard that four of these "swipes" struck Mr McMillan, causing fatal injuries.
Previous convictions
Fender was asked by defence advocate Donald Findlay QC how he felt about killing Mr McMillan.
He replied: "I was devastated - there was no need for any of this. Everybody involved is suffering."
During cross examination, Fender told advocate depute Murdo McTaggart: "I had to fight for my life in that street. I was just focused on trying to stay alive."
Fender also told the court that he cared for his former friend.
He said: "I didn't want to hurt Gary. I didn't want any of this."
Following his conviction, the court was told that Fender has three previous convictions for possessing a knife and three previous convictions for assault.