Discarded ice cream catches Stirling housebreaker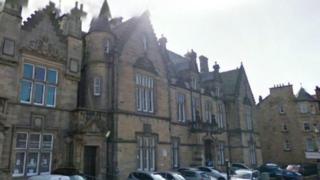 A man who broke into a pensioner's house was caught by a half-eaten ice cream he left on a windowsill, a court has heard.
Kevin Dudgeon's DNA was found on the chocolate ice cream after he fled from 79-year-old William Johnson's Stirling home.
Mr Johnson was woken by bumping noises and discovered a "male figure" running out of his back door.
Dudgeon, 24, was jailed for 18 months after admitting the break-in.
Prosecutor Kyrsten Buist told Stirling Sheriff Court that Mr Johnson had heard noises at about midnight on 17 July last year.
He initially thought it was his dog, but as they became louder he went downstairs to investigate and disturbed an intruder.
Miss Buist said: "An officer attended and looked around and realised there was a half-eaten Magnum ice lolly lying in the outside windowsill of the downstairs bathroom."
'Troubled life'
The court heard that although it was a warm summer night, the ice-cream was unmelted, and the officer realised it had not been there for long.
Swabs were taken from the ice cream and a DNA sample matched Dudgeon's profile.
Virgil Crawford, defending, said Dudgeon had led "a troubled life", blighted by alcohol problems since his early teens.
Mr Crawford said that after being remanded in custody for another offence, Dudgeon's mental and physical health had improved.
Mr Crawford said: "He has had the benefit in prison of a drugs worker and a mental health worker, and has been engaging with a course in information technology.
"He is of the view that his remand in jail has been the best thing for him.
"As a result of that he asks that he should be given a custodial sentence."