Mystery over homeless man's injuries at bus station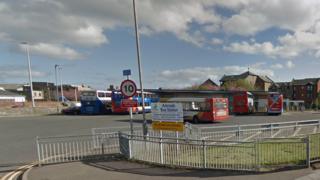 A man who said he was injured after falling in the waiting room at Arbroath bus station may have been assaulted.
Police said the homeless man was discovered "intoxicated and bleeding" in the waiting room at about 18:30 on Thursday.
Officers said initial inquiries, and the man's recollection of events, indicated he had fallen.
However, a number of posts on social media sites have claimed that he was assaulted by a group of youths.
A Police Scotland spokesman said: "It has since come to our attention that this man may have been assaulted and we have already spoken with a number of persons who may have been involved.
"We are also aware of a lot of speculation on local social media which is unhelpful, particularly if names are being mentioned of persons who may or may not be involved."