'Serious concerns' over Clackmannanshire Council finances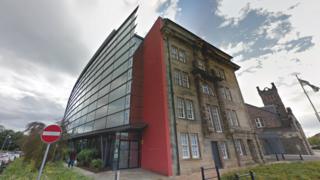 Scotland's local authority watchdog has "serious concerns" over Clackmannanshire Council's financial position, according to a new report.
The Accounts Commission said the council must take "urgent and decisive action" to make £29m worth of savings over the next three years.
The commission's chairman Graham Sharp said its report was "a wake up call."
The council said it was confident it could "address the challenges highlighted in the report".
Clackmannanshire Council is one of three Scottish local authorities that the Commission warned recently was at risk using up its cash reserves within three years.
The council's current annual budget is £118m.
'Not sustainable'
The report notes: "The council has made significant savings over recent years but has yet to make the transformational changes necessary to secure its financial position.
"It has used reserves to balance budgets; this is not sustainable and the council must now make difficult decisions about the services it can afford to deliver."
The commission said strong leadership was "now essential in the wake of previous political instability."
It said this "also requires close working between councillors and officers".
Labour took over control of the council in May 2016 after the then SNP administration stepped down.
The Labour group resigned in February 2017 and the SNP formed a ruling administration the following month.
The SNP then formed a minority administration at the council four weeks after last May's Scottish local elections.
---
Analysis by Jamie McIvor, BBC Scotland local government correspondent
This report is not a criticism of frontline local services in Clackmannanshire - indeed the public spending watchdog has some praise for them.
Nor does it suggest that local councillors have failed to produce balanced budgets every year. They have, as they are required to do by law.
Rather this is about long-term strategic decisions facing the council and fears local services could eventually suffer unless some tough choices are made.
It is not about saying to the public they face any cuts or savings on top of those already being discussed in the coming year - it is about saying the council could take a strategic, long-term decision to prevent having to make unwanted cuts to services which the public would feel the impact of in years to come.
These tough choices might potentially involve things like internal restructuring, closer working with other councils and public agencies or outsourcing. Difficult, perhaps, for staff but unlikely to be of more than passing interest to many consumers of local services.
The watchdog expects councils to anticipate what their financial position may be like in a few years time and take proactive steps to ensure they can cope so they do not have to make rushed or panicked decisions then. Its aim is to provide information to allow councillors and officials to make informed choices.
Councils have faced years of tight budgets. At the same time costs can rise both because of inflation itself and because of the rising demands for particular services.
But internal restucturing can be a hard and difficult process.
An attempt to merge Clackmannanshire and Stirling's education departments ultimately proved unsuccessful.
Restructuring tends to cost money to begin with and savings come in the longer term.
---
The report said the council "works well with other organisations to identify local priorities and deliver services".
It said: "Against a backdrop of budget reductions and service cuts, Clackmannanshire has maintained service performance and customer satisfaction in a number of key areas, although this isn't the case across all services."
Accounts Commission chairman Graham Sharp said: "This report is a wake up call.
"Councillors and officers in Clackmannanshire urgently need to work together to make the fundamental changes required to address its financial position, so that it can continue to deliver the key services people depend on."
Mr Sharp said this meant "taking difficult decisions it has put off in the past".
He said: "Not taking them now is not an option and will only make things worse in the longer term."
Council leader Les Sharp said the authority faced "unprecedented financial challenges".
He said: "Members and officers will continue our focus on working together to ensure we deliver the best services we can for the community of Clackmannanshire.
"We are confident that we can address the challenges highlighted in this report, many of which are common to all councils in Scotland."