Banned killer driver given licence back by mistake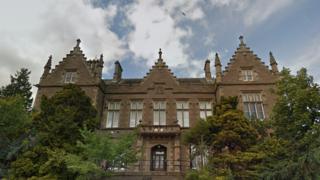 A man who killed a taxi driver in 2009 when he crashed a BMW into his cab has been jailed for new motoring offences.
Halim Cholmeley, 44, served three years in jail and was banned for driving for a decade after causing the fatal collision in Dundee.
A court heard he was given his licence back four years early by mistake and went on to commit the new offences.
Cholmeley was sentenced to six months in prison for failing to provide a breath specimen.
He will be sentenced in January on charges of obtaining a licence while disqualified and driving while disqualified in November 2016 and October this year.
Cholmeley was sentenced to six years in prison in 2010 for killing taxi driver Gavin McCabe.
He was over the alcohol limit and disqualified from driving when he crashed into Mr McCabe's cab in an apparent suicide attempt.
'Admin error'
Forfar Sheriff Court was told Cholmeley was spotted behind the wheel by police in March 2016.
Officers confronted him and smelled alcohol, but he refused to provide a breath specimen.
Three months later, with four years of his road ban still outstanding, Cholmeley sent off to the DVLA for a new licence.
Depute fiscal Stewart Duncan said: "Due to an admin error the DVLA did not see his status as a disqualified driver and, as such, a new licence was issued with a new driver number."
In November 2016 Cholmeley travelled to an Audi dealership in Aberdeen where he used the licence to secure a 48-hour test drive of a £50,000 Audi SQ5 SUV.
Cholmeley, from Glen Prosen, Angus, admitted four charges of driving while disqualified, three of driving without insurance, one of failing to give a sample of breath and one of obtaining a licence while disqualified from driving.
Sheriff Alison McKay jailed Cholmeley and banned him from driving for five years.