Overtime fraudster must repay £30,000 to avoid jail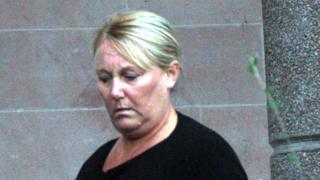 An office manager who paid herself £30,000 of unauthorised overtime has been told she may avoid prison if she fully refunds her former employer.
Wendy Shaw, 46, falsified spreadsheets at Stirling-based fire and flood firm Total Reinstatement Services for more than six years.
She was suspended and escorted from the premises when the fraud was discovered.
A court was told Shaw had "prevailed on family and friends" to raise the funds to pay back the money.
Shaw admitted defrauding the company between March 2008 and October 2014 and will be sentenced on 5 December.
'Incredibly serious'
Her lawyer Virgil Crawford told Falkirk Sheriff Court that three separate sums of £10,000 had been transferred electronically to his firm on Monday.
Mr Crawford said the money would be available to repay Total Reinstatement in full once it had cleared money-laundering checks.
Sheriff John Mundy said: "This is an incredibly serious case, to my mind.
"Had it not been for the information I have just been given about the transfer of money into Mr Crawford's firm, then there isn't a question today that I would be sending you to jail."
Sheriff Mundy deferred sentence for three weeks to ensure the money was repaid.
He said: "If that has been confirmed I'll take it into account, and it may well be that at that stage I will impose a high-end community-based disposal of unpaid work and supervision."