Gaming guru on 20 years of Grand Theft Auto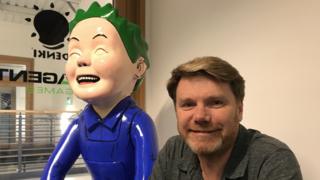 Grand Theft Auto creator Dave Jones says there is "no limit" to the future success of the gaming industry, as the title celebrates its 20th anniversary.
The developer will talk about the controversial game's legacy at a panel discussion in Dundee later this month.
Mr Jones, who also created Lemmings, will tell the event what he believes lies ahead for the computer games sector.
The Grand Theft Auto (GTA) series has sold more than 250 million copies.
The event is part of Abertay University's 20 Years of Games, which celebrates its setting up of the world's first computer gaming degree.
The university said Mr Jones was "instrumental" in establishing the degree course.
The 52-year-old, whose Reagent studio is based in Dundee, said GTA has "become part of everyday life."
He said: "I remember sitting seeing a movie at home and there being a line, "don't go all GTA on me."
"That was a surreal moment.
"GTA is now a part of everyday culture and one of the best things about any game is that it can have that level of impact.
"I suppose it's an aspiration for people who want to make games, to have that lasting legacy and impact on the world when you produce something really great."
'Unlimited potential'
Grand Theft Auto, which has been criticised for glamorising violence, allows players to take on the role of criminals, who are given various "missions" to complete.
Mr Jones said: "I still think GTA is the one game that shows how far the industry has come and what it went through was a phase of acceptance of the medium in the same way as music and movies had to.
"Initially all games were for kids and because of the technology people weren't thinking of the graphics and story.
"But then equilibrium was reached where games became like any other form of entertainment and now we accept it."
Mr Jones said he believed the industry still held "unlimited potential."
He said: "Virtual Reality has been through a cycle and Augmented Reality is about to go through a cycle, then there's streaming and YouTubers.
"There are so many changes that just catch the industry unaware every three or four years, but that keeps it interesting."
Mr Jones said he had yet to see anything in the gaming sector that could not be done in his native Dundee.
He said: "In Dundee it's the network effect of everybody knowing one another over the years."
"It's having that nucleus of a combination of experienced industry people, strong academia and support from local enterprise."
Next Level: a conversation on the future of games on 25 November also features Ukie chief executive Jo Twist, Playmob chief executive Jude Ower, journalist Will Freeman and computer arts lecturer Lynn Parker.