Private parking tickets woman declared bankrupt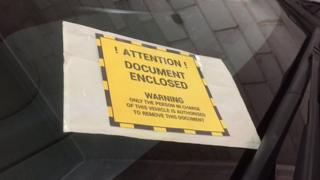 A Dundee woman ordered to pay a private parking company £24,500 in unpaid charges has been declared bankrupt.
Carly Mackie had ignored hundreds of parking tickets for leaving her car at Dundee's Waterfront without a permit.
Ms Mackie, 29, who now lives in Paisley, has debts of £37,546 according to Scotland's insolvency service Accountant in Bankruptcy.
Vehicle Control Services (VCS) took her to court last year after she failed to pay £18,500 in private parking notices.
Ms Mackie said that she had a right to park in the area as she was living there at the time and that the charges were unenforceable.
Sheriff George Way said the charges were from a "valid contract" and she was liable for them.
In a written judgement, the sheriff said Ms Mackie had "entirely misdirected herself" on both the law and "the contractual chain" in the case.
He said: "The parking charges flow from a valid contract between the pursuers and the defender and she is liable for them."