Courier caught in £400,000 cocaine raid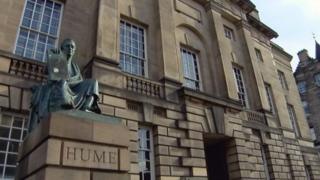 An unemployed man accepted £300 to transport cocaine worth more than £400,000 between Glasgow and Dundee, a court has heard.
Ryan Stewart, 41, was arrested after detectives acting on a tip-off searched his car in a Dundee car park in March this year.
Officers found a bag containing more than a kilo of the drug, which was found to have a purity of 80%.
Stewart, of Dundee, admitted being concerned in the supply of cocaine.
He will be sentenced at the High Court in Glasgow on 3 November.
The High Court in Edinburgh was told that cocaine seized at street level normally had a purity of 10%.
Prosecution lawyer Maryam Labaki said: "Should the 80% cocaine be cut to the average purity of 10%, it could realise 8113.6 grams, which if sold at £50 per gram would have a maximum illicit value of £405,684."
Ms Labaki said that Mr Stewart was the only person in the car at the time of his detention and was taken to Dundee's police headquarters.
Ms Labaki said: "During the interview he admitted to being paid £300 to act as a courier."
Judge Lady Scott deferred sentence on Stewart for reports.