'High risk' of NHS Tayside failing to balance budget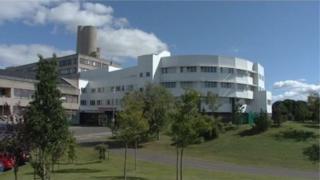 NHS Tayside faces a "high risk" of failing to balance its budget in the current financial year, Scotland's spending watchdog has reported.
Auditor General Caroline Gardner said the board had continued to experience "significant financial issues".
NHS Tayside delivered £45.5m in efficiency savings in 2016/17, nearly double the savings of the previous year.
However, the auditor general said that was still £1.3m below target.
The main overspends last year were on workforce, prescribing costs, and clinical supplies.
NHS Tayside chief executive Lesley McLay said the board was "actively addressing" its issues.
Independent advisors were appointed in March to help NHS Tayside meet its financial challenges.
They have reported that "the pace and scale of change needs to increase" if the board's transformation plan is to succeed.
Ms McLay told MSPs last December there was "no intention whatsoever" of cutting jobs.
The health board received £13.2m in Scottish government loan funding, known as brokerage, in 2016/17.
The auditor general's report said: "This brings the total brokerage received by the board over the last five years to £37.5m.
"Of this, £33.2m is still to be repaid but the Scottish government has suspended repayments and it's not yet been confirmed when they will resume."
A funding gap of £49.8m has been predicted for the current financial year.
The board plans to deliver savings of £45.8m, with the balance being provided by a further £4m in brokerage.
'Significant savings needed'
The report said: "The board recognises that its cost base remains too high and further significant savings are needed in future.
"It has identified that to be financially sustainable in the long term, it must save £205.8m over the next five years.
"This includes the suspended brokerage repayments.
"There is a risk that more financial support will be needed, and the 2017/18 savings also include £5m which have yet to be identified or are high risk."
Ms Gardner said: "NHS Tayside continues to face an extremely challenging position which will make it difficult to achieve financial balance in the future.
"Some of the changes required to address these challenges will take time to fully implement.
"It's important that the board put in place a realistic action plan, accompanied by the capacity and resources required to deliver it."
Ms McLay said: "Today's report indicates areas where we have already identified significant pressures on spending.
"We know we are spending more than our allocated share of the NHS funding in Scotland.
"We have the largest property footprint in the country, we use more agency nursing staff and we spend more on prescribing medicines.
"We are actively addressing all of these issues."
She added: "We have already taken decisive action in 2017/18, including stopping the use of non-contract nursing agency staff in some areas, undertaking a wide-ranging programme of work to address prescribing costs, and identifying additional actions to close our financial gap."