Krzysztof Gadecki found guilty of double murder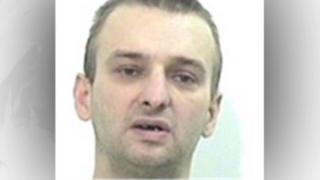 A convicted rapist who was found guilty of murdering a man and woman in Dundee will serve at least 26 years in prison.
Krzysztof Gadecki, who is 38, was given a life sentence after being convicted of stabbing to death Ronnie Kidd and Holly Alexander in December last year.
The judge told Gadecki that the murders were "brutal" and pointed out that both victims had children.
Gadecki, who arrived in the UK in 2009, had been jailed for rape, robbery and fraud in Poland.
A year before he committed the murders the Home Office had served him with a deportation notice on the basis of his convictions.
Gadecki remained at liberty in Scotland after appealing against the move.
The High Court in Edinburgh heard that a decision had not been made in the appeal when Gadecki knifed his victims to death.
Mr Kidd, who was 40, and Miss Alexander, 37, were found dead by police in a flat in the city's Rosefield Street on 11 December.
The court heard that the alarm was raised after Mr Kidd's electronic tag showed he had not left the property for three days.
When officers arrived they found blood splatters in the property, before noticing Mr Kidd in a bedroom doorway.
Miss Alexander, an American-born mother-of-three, was also found dead.
Heroin addict
Pathologist Dr Matthew Lyall later told the court that Ms Alexander had suffered nine stab wounds to her chest and Mr Kidd was found to have been struck with a knife 23 times on his head, neck and torso.
Following the attack, heroin addict Gadecki went back to the flat and took wallets, cash, watches and drugs.
Gadecki had claimed he carried out the killings in self defence after being attacked by the couple.
He said he had left a jacket at their flat, which had belonged to his late brother.
The killer claimed that Mr Kidd started calling him names and had presented a knife. Gadecki said he managed to get hold of the knife and began hitting his attacker.
He then claimed that Ms Alexander ran at him with a blade in her hand and had merely acted to protect himself.
Advocate depute Bill MacVicar, prosecuting, said after the verdicts that New York-born Ms Alexander had emigrated to Scotland in 2014 with her husband and children to open a takeaway business in Dundee.
He said: "She was at that time recovering from heroin addiction but unfortunately relapsed and started to abuse heroin again."
Her relationship with her husband broke down.
'Children have no mother'
Gadecki was subjected to abuse from the public benches of the court as he was led off to prison.
Holly Alexander's mother, Lorraine DiPalermo, told BBC Scotland she had begged the police to arrest her daughter to get her away from Ronnie Kidd.
She said he was a known drug dealer who was feeding her diamorphine to keep her with him.
Ms DiPalermo also said she had asked doctors to commit her daughter under the Mental Health Act because she had a drug-induced psychosis.
She said: "The police would not arrest her and send her home so now she is dead because of a guy you let in from Poland who was a rapist. I hate Scotland."
Ms DiPalermo added: "The children have no mother. Her husband is a broken lost man. Our family is in shambles."