Double killer Krzysztof Gadecki was 'defending his life'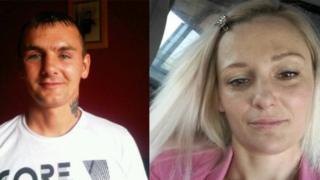 A man accused of committing a double murder has admitted killing a man and woman in their home.
Ronald Kidd and Holly Alexander were found dead in a flat in Dundee's Rosefield Street last December.
Accused Krzysztof Gadecki told a court that life was a "gift" and he had a right to defend it when he was attacked by the couple.
The 38-year-old, who had been living in Dundee, denies murder and has lodged a special defence of self-defence.
The High Court in Edinburgh heard that Mr Gadecki had left a jacket, which had belonged to his late brother, at the flat.
He said he later went to the flat and asked where the jacket was but Mr Kidd started calling him names and wanted to close the door but he blocked the move with his foot.
'Like a Samurai'
Mr Gadecki, who is Polish and was giving evidence through a translator, said Mr Kidd had a knife and was swinging his arm but he grabbed the blade and managed to get the weapon and started hitting him.
Mr Kidd then shouted something to Ms Alexander who came running with a knife in her hand, the court heard.
Mr Gadecki added: "She was coming like a Samurai."
He said he pushed her hand back and he hit her twice very quickly and she collapsed.
Mr Gadecki told the court he was "totally in pieces" after the incident and was "totally devastated by it all".
He said he had later returned to the flat where the killings took place to get heroin and pills, and also took a watch and wallet.
'No money'
Defence solicitor advocate Iain Paterson asked him why he had killed Mr Kidd and he replied: "Because life is a gift and I wanted to live. I was scared.
"It happened too quick. There was no time to think... I was feeling like a soldier in the first line."
Advocate depute Bill MacVicar put it to the accused that on the day before he killed the couple he had no money or drugs and was desperate to get some.
But Mr Gadecki answered: "No, that's not true. I always arranged something for myself."
The prosecutor asked if he was angry about the jacket that had gone missing and he said: "Maybe not angry, more disappointed because it was my brother's jacket."
Mr Gadecki denies all the charges against him. The trial before Lord Boyd of Duncansby continues.