Dundee V&A community garden opened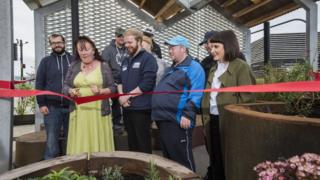 A ceremony to open the V&A Dundee Community Garden has taken place in the city's Slessor Gardens.
Members of the public who designed the garden and volunteers who were involved in planting the flowers and grasses were among those attending the event.
The garden, which is a 100 square metre plot, was designed by people who have had a variety of wellbeing issues.
V&A Dundee communities producer Peter Nurick described the space as "beautiful and welcoming".
Dundee's V&A community project hopes the transformation has helped highlight how design can have a positive impact on people's wellbeing.
Local volunteers became involved in the project following a public appeal and were helped by professional designers Linsey McIntosh and Gary Kennedy.
The garden will be an extension to the new museum which is scheduled to open next summer - providing a space for outdoor events.
The design for the area includes a small stage and an open area where people are encouraged to gather.
'Wonderful space'
Mr Nurick said: "This is a wonderful opportunity to thank all the people who have been involved in the creation of the V&A Dundee Community Garden.
"The co-design team worked hard to make this a space where people can gather, relax and reflect. They have designed a beautiful and welcoming space in the heart of the Dundee waterfront and should all be incredibly proud of their achievement.
"The hard work of the volunteers has really brought the garden to life and we are hopeful that local people will continue to help us maintain this space as it grows and evolves."
The People's Postcode Lottery helped to fund the project along with The Rank Foundation and Tesco Bags of Help.
Clara Govier, head of charities at the People's Postcode Lottery, said: "Players of People's Postcode Lottery have awarded an incredible £825,000 to V&A Dundee since 2014 to allow them to work closely with people in Dundee and across Scotland.
"I am delighted that as a result of this support the V&A Dundee Community Garden has officially opened today and will provide a wonderful space for people to enjoy for many years to come. I would like to congratulate all the volunteers involved in this fantastic project."