Dundee shop owners discuss business improvement district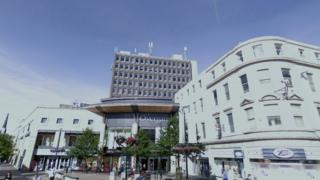 Dundee business owners are in talks over creating a Business Improvement District (Bid) for the city centre.
A Bid is where businesses in an area pay a levy which is used for services such as maintenance and marketing.
In 2015 there was a failed attempt to create a Bid in Dundee as the proposal did not secure a large enough majority.
There are fears the project lacks sufficient interest with many businesses not interested in paying in - including some national chains.
City Centre business owners were present at a meeting in Abertay University with the hope the scheme could be in place before the opening of the V&A museum next summer.
Richard Meiklejohn, chairman of the Dundee steering group, believes that steps need to be taken soon so that the proposal can be taken forward.
'Positive message'
He said: "If we get cracking now we can have everything in place by the time the V&A opens next year. The biggest thing now is to put a positive message out there.
"The key thing is there is now a consultation process we have to go through. It gives us a chance to speak to businesses and their users."
It is believed that businesses will be provided with up £700,000 of financial support each year if the project is successful.
Stirling already has a Bid, with David Betts, the manager of Debenhams in the city, saying it allows businesses to have more of a voice.
Speaking at the event he said that more action needed to be taken for shops in the city centre to be able to compete with online retailers and out-of-town shopping centres.
But a consultant involved in Dundee's Bid project, Neil Cooney, said the meeting "wasn't very well attended" and was simply just "testing the waters".
Mr Cooney added that the proposal would help in Dundee's push to become the capital of culture in 2023.
He said: "Nottingham's Bid has brought in £1m every year for the last six years.
"While a Bid is not a magic bullet for Dundee city centre's problems, it can offer communication and it can offer budget."