New lease of life for former McEwens of Perth department store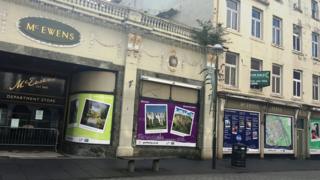 Independent department store firm Beales has confirmed it will open in the former McEwens of Perth building.
McEwens of Perth closed with the loss of 100 jobs in May last year after trading at the St John Street site since 1868.
Beales, which operates 20 outlets in the UK, said it hoped to open the new department store by November.
Perth and Kinross council leader Ian Campbell said the announcement was "fantastic news."
He said: "The former McEwens building is a flagship site in the city centre, and it will be great to see it coming back into use, particularly as home to an established independent business."
Mr Campbell said the Bournemouth-based company's decision to open its first Scottish department store in Perth was a "ringing endorsement" for the city.
Beales chief executive Tony Brown said: "We recognise Perth to be one of the most innovative cities in Scotland with a great heritage and a forward-thinking council.
"We are confident that Beales will be able to meet the needs of our new customers in Perth and surrounding area, continuing Perth's tradition of offering all that is best from a local, independent department store."