Electricity pylon ospreys rear chicks in Perthshire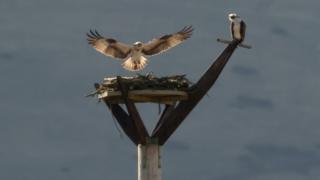 A pair of ospreys in Perthshire have successfully produced chicks for the first time since being relocated from the top of an electricity pylon.
An artificial nest, thought to be the highest in the world, was created to lure the birds away when SSE Networks began planning improvement works.
A new nest was built on a 25-metre-high pole on the opposite end of the field to the pylons, near Alyth.
It is thought there are now 200 to 300 ospreys in Scotland.
Ospreys became extinct in Scotland in the first part of the last century but numbers have been slowly returning.
However, they are still endangered and nest sites must not be disturbed.
It is thought this is the first year the rare protected birds have produced chicks which have fledged.
Osprey expert Roy Dennis said: "We've got pretty good at moving nests that are in really difficult positions.
"Ospreys are a really easy bird for you to work with, if you are an expert, and so we designed that pole, put it up and the birds went straight to it when the came back from Africa.
"They have nested in it each summer since."
The pole had to be close enough to lure the birds off the pylon but far enough away so that engineering work on the tower would not disturb them.
Keith Thomson, lead environmental manager with SSE Networks, said: "It was identified as a constraint for future transmission upgrade works on the line so we've purpose built a new tower for the ospreys.
"It's been really successfully. They've used the nest every year since we've built it but this year in particular we know there have been two chicks reared so we're delighted with the outcome."
The birds can often be seen eating whole fish caught from local rivers and lochs.
Farmer Hugh Stewart, whose land the ospreys occupy, said: "I do a bit of fishing so it's quite annoying when they pick a fish out of the river and you've been all there getting nothing."
The ospreys have now reached the time of the year where they think about flying south.
But after living in the same field for more than 30 years, everyone expects they will be back.